Bitcoin CFDs Trading at Plus500
Do you want to trade bitcoin? Then you've come to the right place! We discuss how you can actively trade bitcoin CFDs with Plus500. By using Plus500 you can speculate on both increases and decreases of the bitcoin price. But how does trading in Bitcoins with Plus500 work? (Instrument availability subject to regulations).
Bitcoin CFDs Trading with Plus500
Before you can trade bitcoins with Plus500, you must first open an account. At Plus500 you can trade in the price movements of the bitcoin without paying commissions. Because you can also open a short position, you can open a position on a falling crypto market. Finally, you have the option to apply a leverage which allows you to open a larger position with a smaller amount. (All Instruments here are  CFD´s here as well)
Do you want to try the possibilities on Plus500 completely free with a demo account? Then use the button below to directly open an account with Plus500:
–>> Open Account here <<–
72% of retail CFD accounts lose money.
On the website you only have to leave an email address and password to use the online WebTrader directly.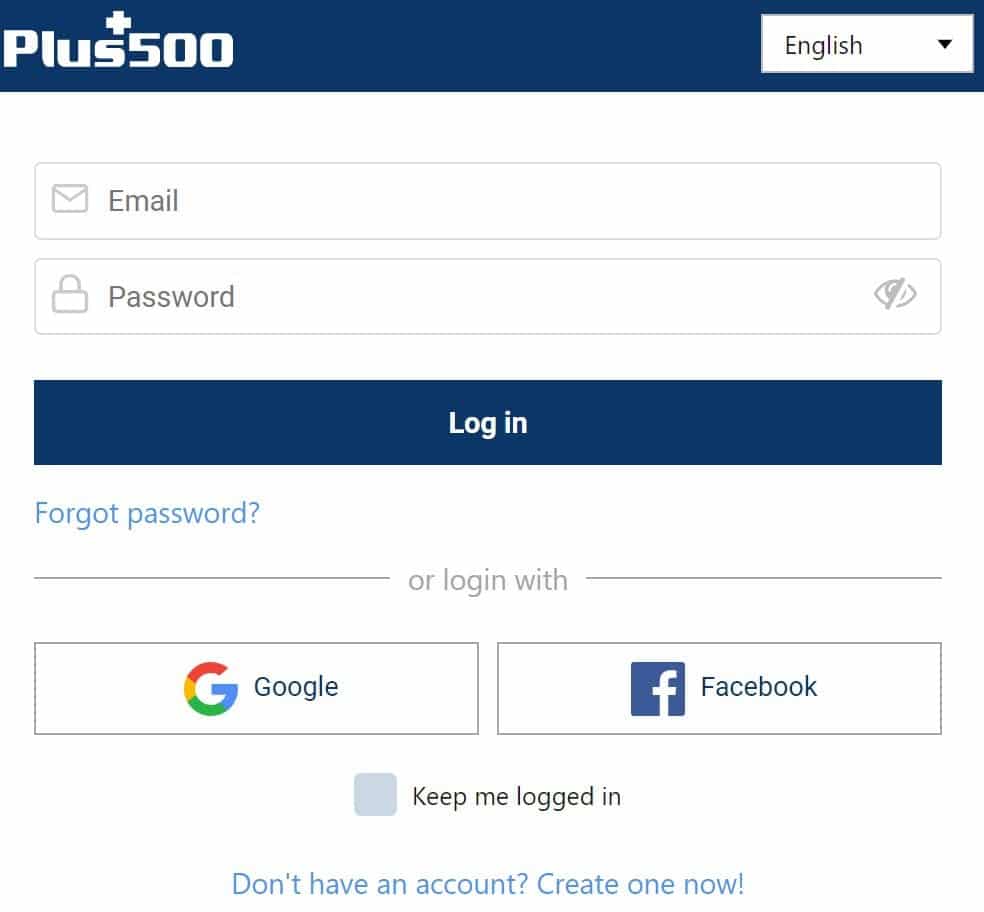 If you want to start trading bitcoin CFDs with real money, you must first leave some more data. Plus500 is an online trading platform, and they are required by law to confirm your identity first.
How does bitcoin trading work with Plus500?
Normally, you need a wallet when you buy bitcoins. A digital wallet is a way to store crypto coins securely. A major disadvantage of the wallet is that it can be hacked. In the past, it has happened regularly that smart hackers have stolen large amounts of bitcoins.
Fortunately, on Plus500 you do not trade with a wallet in bitcoins. On Plus500 you never even directly buy Bitcoin. With Plus500 you trade in the price trend of the bitcoin by using CFDs. CFD stands for contract for difference and this is a type of derivative with which you can speculate on price increases and price drops of the Bitcoin.
In our Bitcoin Plus500 tutorial we show how you can open a trading position within the platform of Plus500. After you are logged in on Plus500 you can navigate to the cryptocurrency category within the platform.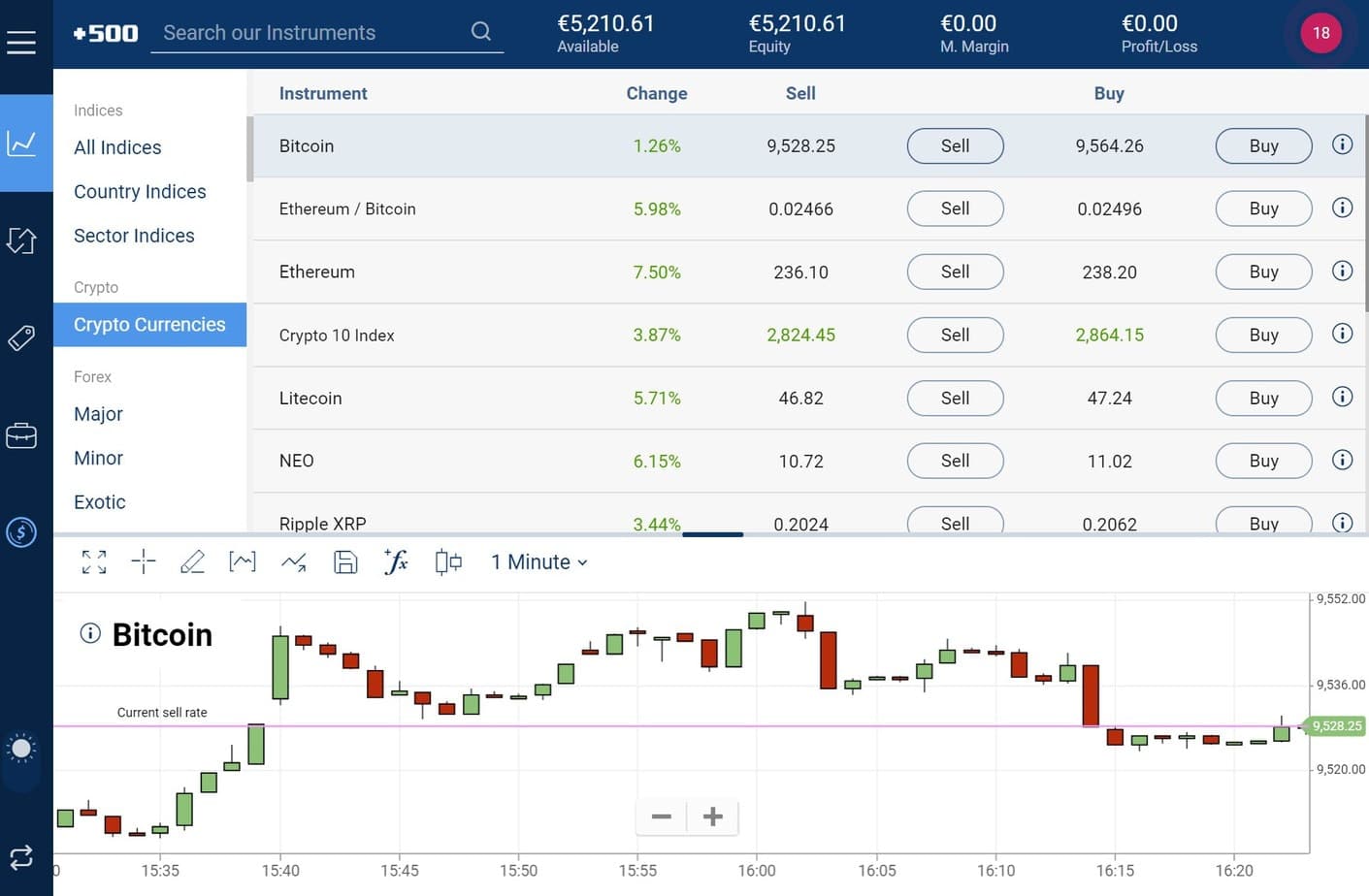 Illustrative prices.
Find the Bitcoin CFD within the software. When you press the Bitcoin CFD you have two options:
To buy: you then achieve a positive result when the price rises.
To sell: you then achieve a positive result when the price falls.
It is important to remember that you have a high risk of losing money rapidly due to leverage. When you press one of the two buttons, the Bitcoin order screen opens. Below you can see what this looks like: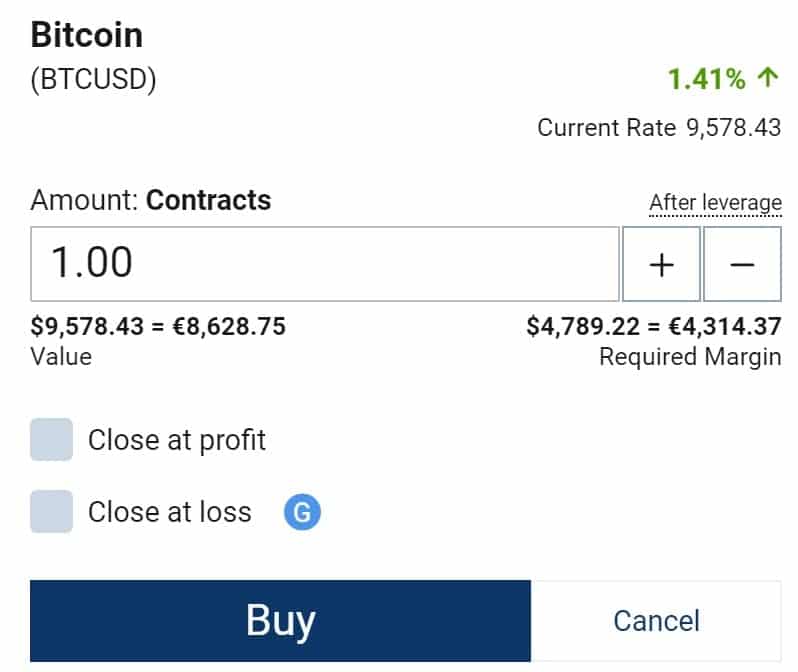 Illustrative prices.
In this screen you can enter the details of the position in the Bitcoin CFD. First you have to determine how many Bitcoins you want to trade. On Plus500 it's possible to trade in 1/50th bitcoin. This also allows you to speculate on bitcoin's price changes with smaller amounts of money. You can also enter whether you automatically want to take your loss or profit at a certain price. By setting these values you can automate the trading activities in Bitcoin as much as possible.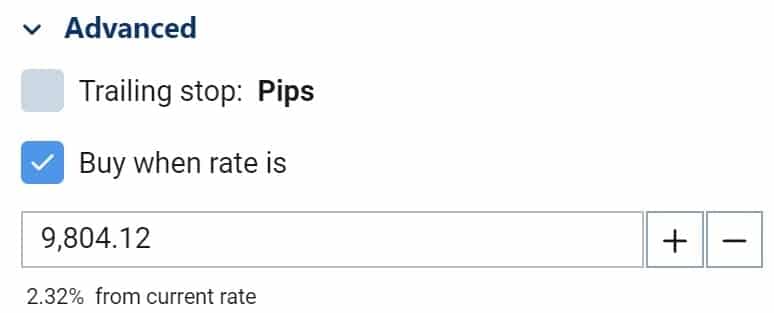 Illustrative prices.
It is also possible to place an order on the bitcoin. You do this by setting a value at which you automatically buy Bitcoin CFDs. By using orders, you can respond to market developments without having to be physically behind your computer.
You should know this before trading bitcoin
Before trading bitcoin CFDs on Plus500, you must understand the following elements:
Leverage trading
You can use a leverage on Plus500. On cryptocurrencies such as Bitcoin, the maximum leverage is one to two. This means that with an amount of $1000 you can take a position of $2000. In practice, using leverage makes both your potential gains and your potential losses accumulate twice as fast.
With leverage you can therefore take extra advantage of small price changes. It's important to pay close attention when you use leverage. You can lose your entire deposit faster when you use leverage. When the price of the bitcoin drops 50% you lose 100% of the value on your account. You can read in detail how this works in the article on leverage trading.
Bitcoin expired contracts
It is also important to remember that you do not invest directly in Bitcoin. On Plus500 you trade in a price contract on the Bitcoin. Bitcoin CFDs do expire; however, the number of days on which the CFD expires is variable as it is subject to change from time to time. When the contract expires, your position on the Bitcoin will be closed automatically. This means that your open profit or loss becomes final.
You can respond to this by opening a new Bitcoin position. You do pay the transaction costs every time you open a position again. It's therefore important to pay close attention to the expiration date of the Bitcoin. When the Bitcoin contract expires in a few hours, it is probably better to wait a while before opening a trade on the digital currency. When you open a new transaction, you pay the transaction costs again.
Shorting Bitcoin
At Plus500 you have the option to short sell the Bitcoin. This is advantageous: by shorting the Bitcoin, you can speculate on a fall in the Bitcoin price. The Bitcoin is a very volatile currency that can drop and rise several percent multiple times a day. Because you can place orders in both falling and rising markets, you can make a trade within any market situation.
How much does trading Bitcoins with Plus500 cost?
At Plus500 you do not pay fixed commissions on your investments in CFD Bitcoins. This is advantageous: it makes it possible to trade actively in the price movements of the Bitcoin with smaller amounts of money. However, trading in Bitcoins at Plus500 is not completely free. There are two ways in which Plus500 charges costs for your trading activities.
The first way is by calculating a spread. The spread is the difference between the buy and sell price of a Bitcoin. Under the button Information you can immediately see which spread you pay for each Bitcoin transaction. This amount may change when market conditions change. It is therefore always wise to look at the spread before opening a position.

Illustrative prices.
The second way Plus500 makes money from your Bitcoin trades is by charging financing costs. When trading CFDs, you have the option to trade with leverage. Plus500 then finances a large part of your trade. You pay a daily amount of interest on this amount. You only pay the financing interest on the Bitcoin if you leave the position open for several days.

Illustrative prices.
You can check all Fees here:
Plus500 is mainly compensated for its services through the "market spread". For example, when trading EUR/USD, if the buy rate is 1.12078 then the sell rate would be 1.12072 respectively (which means a market spread of 0.6 pips, in this example). Unlike other service providers who also charge commissions on each trade, Plus500 does not charge dealing commissions.
However, the following additional fees may be applied:
Overnight Funding – The overnight funding amount is either added to or subtracted from your account when holding a position after a certain time (the "Overnight Funding Time").
The overnight funding time and the daily overnight funding percentage can be found in the "Details" link next to the instrument's name on the main screen of the platform.
Currency Conversion Fee – Plus500 will charge a Currency Conversion Fee for all trades on instruments denominated in a currency different to the currency of your account.
The Currency Conversion Fee will currently be up to 0.7% of the trade's realised net profit and loss and reflected in real time into the unrealised net profit and loss of an open position.
Inactivity Fee – A fee of up to USD 10 per month will be levied, should you not log in to your trading account for a period of at least three months. This fee will be charged once a month from that moment onwards, as long as no login is made to the account. The inactivity fee will be equal to the lesser of the remaining available balance in your account or USD 10 (or equivalent depending on your currency). This is to offset the cost incurred in making the service available, even though it has not been used. However, please note that the fee is only collected from the Real Money account and only when there are sufficient available funds in the account. In order to avoid this fee, simply log into your trading account from time to time, as this is deemed sufficient activity to prevent a fee from being charged.

Guaranteed Stop Order – if you choose this feature, please note that as it guarantees that your position (trade) closes at a specific requested rate (price), the trade is subject to a wider spread.
What is Bitcoin?
Bitcoin is a digital currency with some unique features. The Bitcoin is not controlled by a central party. Normal currencies are always controlled by a central party. For example, the euro and the dollar are regulated by central banks and governments have a lot of oversight over all transactions performed.
This is not the case with Bitcoins. Transactions executed with the Bitcoin are more anonymous than transactions executed with for example, the euro or dollar. This makes the coin very popular among people who value their privacy.
However, the value of Bitcoin has not yet been proven. The cryptocurrency is rarely used for payments in shops or restaurants. Most of the value of Bitcoin is therefore created by trust. Investors are confident in the underlying concept of Bitcoin and the price has risen considerably.
The cryptocurrency is rarely used for payments in shops, for example. Most of the value of Bitcoin is therefore created by trust. Investors are confident in the underlying concept of Bitcoin and the price has therefore risen considerably.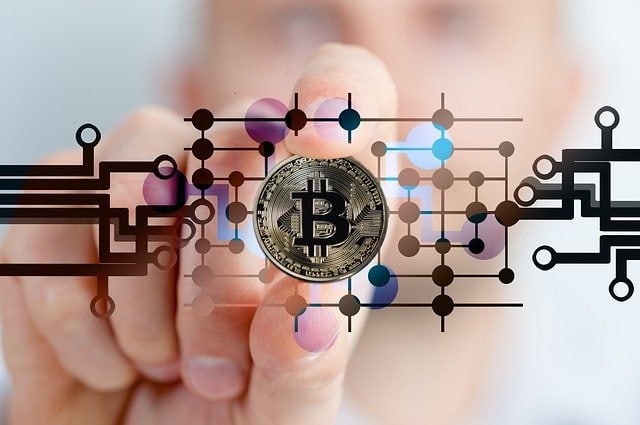 How is the price of Bitcoin affected?
So far, banks and investment funds are staying away from Bitcoin. It is mainly speculators and cryptocurrency enthusiasts who trade in Bitcoin. This makes the price trend of the Bitcoin erratic. The price can easily rise or fall several percent in one day.
When trading in Bitcoin, it may be wise to pay close attention to the sentiment. Because the market is dominated by private investors, the price can collapse or rise sharply with certain news items. Therefore, when trading Bitcoin, constantly keep an eye on the opinion of the average Bitcoin investor.
Trading Ethereum and other crypto coins
With Plus500 you can also trade in other known cryptocurrencies. It's also possible to take positions with CFDs on, for example, Ethereum. It may be wise to spread your trades over multiple crypto coins. After all, it is not yet certain whether one cryptocurrency will become the dominant currency.
You can do this on Plus500 by opening multiple CFD positions on different crypto coins or you can choose to trade in a crypto fund. A crypto fund consists of a basket with different crypto coins.
Consider the risks
When you start trading bitcoin with Plus500, it's important that you understand the risks. When trading bitcoin, you have a high risk of losing your entire investment. It is therefore important to speculate only on the Bitcoin with money that you can miss.
The Bitcoin is very volatile and using leverage further increases the chances of losing your stake. It is therefore recommended to practice first by means of a free demo. By using a demo, you discover whether trading in Bitcoins is right is for you.
–>> Open Account here <<–
72% of retail CFD accounts lose money.
72% of retail investor accounts lose money when trading CFDs with this provider.
You should consider whether you can afford to take the high risk of losing your money